Downloads
Brochure "The FINESCE Smart Energy Platform"
Deliverable 7.8 "Consolidated Trial Results"
Deliverable 7.10 "Consolidated Report Innovation and Business"
Latest news
25.06.2015 Review: Joint INCENSe / FINESCE workshop
17.06.2015 Special Session on Event-based Energy Metering and Control at EBCCSP 2015 in Krakow, Poland
27.04.2015 Review: FINESCE Open Day Trial Site Malmö
20.04.2015 Flexible Electrical Networks FEN - 3. Low-voltage workshop
27.03.2015 Review: FINESCE at the Net Futures 2015
Follow us on



Future Internet building the Energy Marketplace
---
Trial Site Terni, Italy
Topics



Energy grid management in a smart city via an energy marketplace


Lead Partner / Contact information

Engineering

Luigi Briguglio, e-mail: luigi.briguglio@eng.it


Project Partners




TW-TeamWare S.r.l.

devolo AG

ISMB - Instituto Superiore Mario Boella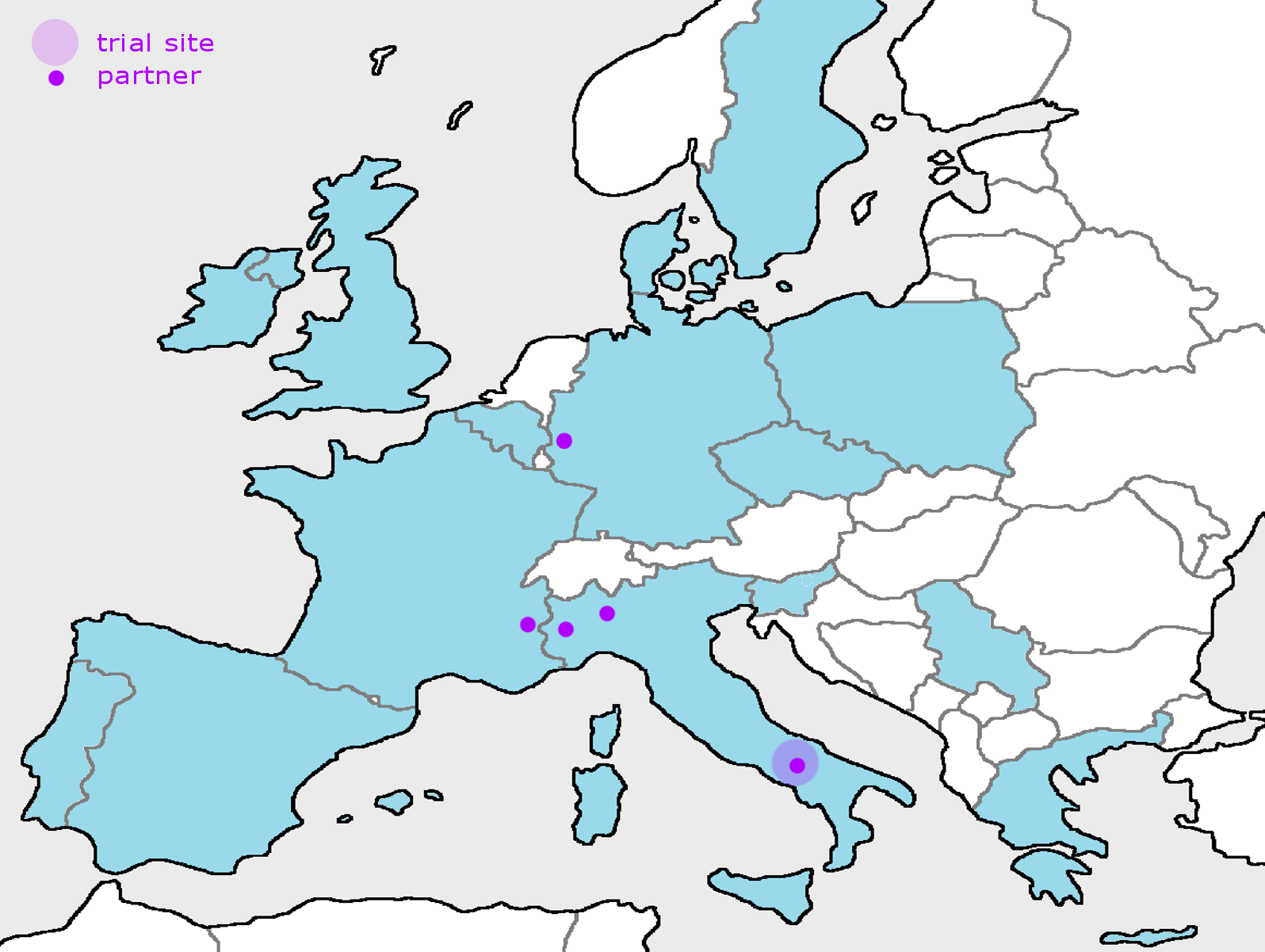 PREMISE
Energy scenario is characterised by a growing density of distributed Renewable Energy Source (RES). This is helping to reduce greenhouse gas emissions and thus to contribute to the European Union target of 20% reduction in these emissions for 2020. However, RES also become more and more a challenge for grids: injected electricity from RES depends from the variable weather conditions. So RES energy has a high deviation over time and this creates imbalances in the grid. Consequently this introduces instability in grid, power losses and critical conditions for electrical components that may reduce their operational lifecycle.
Many solutions from the state of the art, mostly based on controlling power generation: they are characterised by high cost. FINSENY project analysed a new promising approach as a combination of Demand Side Management and new Market mechanisms.
FINESCE WP4 aims to instantiate a marketplace for Energy, enabled by Future Internet technologies, for demonstrating advantages of this approach.

CONTEXT & PROBLEM
FINESCE WP4 is setting up a trial site in Terni, a small city in Umbria region (Italy). The trial is conducted in a small portion of the power grid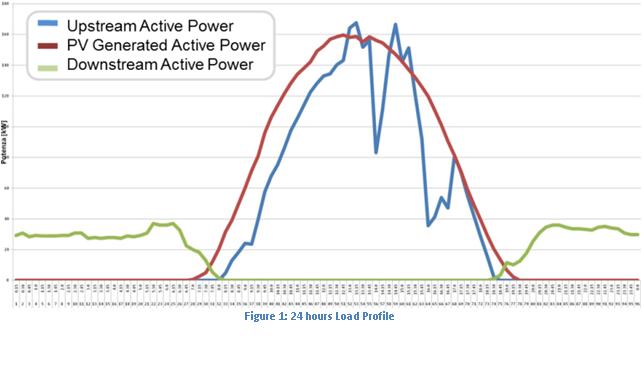 managed by ASM in Terni, characterised by photovoltaic (PV) plants and a hydroelectric power station. Nowadays, the 22% of the overall demand energy is covered by RES generation.
This high density of RES is highlighting more and more grid issues, as introduced in the premise (i.e. instability, reverse power flows and power losses) mainly due to energy consumption not aligned with respect to production from PV plants, as shown in Figure 1.
In this perspective, problem has to be addressed as follows:

PROPOSED SOLUTION
The proposed solution is based on mixing Demand Side Management, that aims to control energy consumption from the consumer side, with new market-mechanisms for better engaging consumer, as well as any other existing and new actor, in the energy marketplace.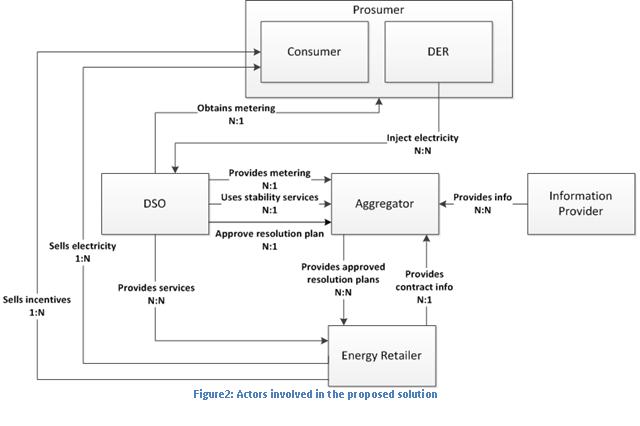 As shown in Figure 2, solution involves 5 main actors: Distribution System Operators (DSO), Aggregator, Energy Retailer, Prosumer and Information Provider.
Aggregator identifies imbalances in power demand and supply and proposes a resolution plan to address them.
DSO has the overall control of distribution grid and approves resolution plans.
Energy Retailer transforms the resolution plans to specific incentives tailored to the Consumer, that consequently shifts its consumption in order to derive more benefits. But also Energy Retailer derives benefits by suggesting usage of energy when price is lower and this maximises its incomes.
In practice, the proposed solution solves an optimisation problem for satisfying minimisation of grid instability (requirement of the DSO) and maximisation of incomes/benefits (requirement of the Energy Retailer and Prosumer).
The system requires a large amount of data, from the Automatic Meter Reading (AMR), that has to be processed in near-real-time with contextual information related to causes impacting energy consumption/production (e.g. weather conditions, social events, contract, regulations, energy dynamics).
The system is conceived to use a set of Future Internet technologies (FI-WARE Generic Enablers) and to provide its features through API (as shown in Figure 3), in order to: i) guarantee re-use of the solution and ii) be later integrated and extended in other trials.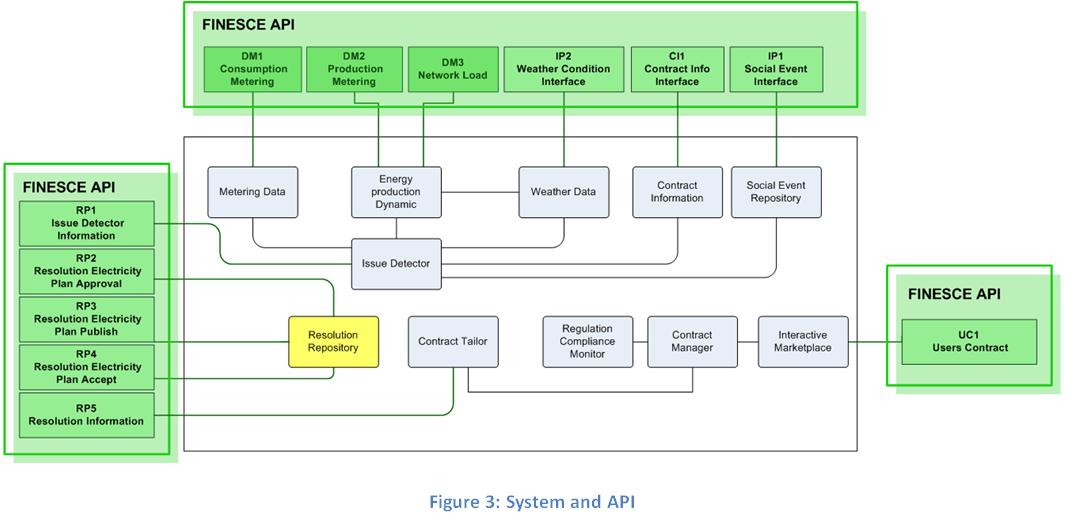 To download the entire text please follow the link (PDF, 428KB).

---







Take a look at the

FINESCE trial site in Terni

(Italy) and see how energy grid management works in a smart city via an energy marketplace
---
Further information:
The Consolidated Trial Description represents the first public deliverable in the FINESCE project. It gives an overview of the infrastructures being used for the FINESCE field trials.