Downloads
Brochure "The FINESCE Smart Energy Platform"
Deliverable 7.8 "Consolidated Trial Results"
Deliverable 7.10 "Consolidated Report Innovation and Business"
Latest news
25.06.2015 Review: Joint INCENSe / FINESCE workshop
17.06.2015 Special Session on Event-based Energy Metering and Control at EBCCSP 2015 in Krakow, Poland
27.04.2015 Review: FINESCE Open Day Trial Site Malmö
20.04.2015 Flexible Electrical Networks FEN - 3. Low-voltage workshop
27.03.2015 Review: FINESCE at the Net Futures 2015
Follow us on



Review: FINESCE Innovation Event Dublin
12.9.2013, Dublin, Ireland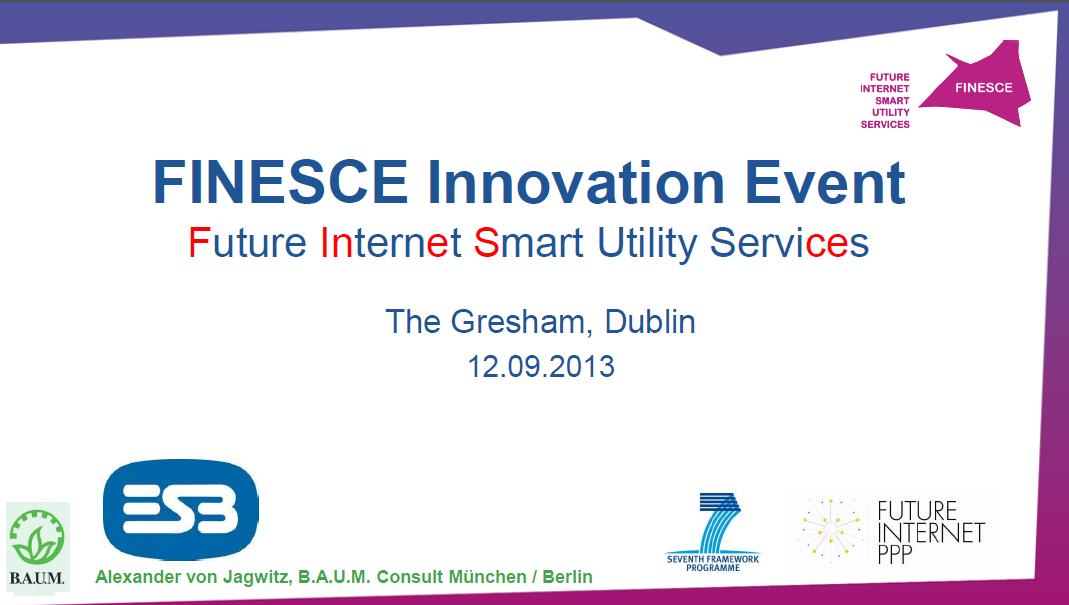 FINESCE project held its second Innovation Event at The Gresham Hotel in Dublin, Ireland. Mark Daly from ESB opened the day by giving a key note speech about the actual requirements of the smart energy domain and how internet technologies could contribute to solve the challenges.

Gerard Kennedy from Enterprise Ireland gave an outlook on opportunities for Irish companies in the upcoming Horizon 2020 programme of the European Commission.

Participants showed great interest in the FINESCE Open Call and presented ideas that reached from advanced battery management and sensor management to additional ICT platforms that could collaborate with the FINESCE trials. In the networking session afterwards, people exchanged information, made business contacts and received additional input and inspiration on how to apply for the Open Call and how to collaborate with the project on a long-term basis.
Download the presentations on the FINESCE Trial Sites:
Agenda FINESCE Innovation Event Dublin
10:00 am - Welcome
10:05 am - Key Note: New Challenges in the Energy Sector
10:20 am - Key Note: Enterprise Ireland
10.45 am - FINESCE and the FI-PPP Programme
11:00 am - Open Call Procedure
11:15 am - Coffee Break
11:30 am - Presentation FINESCE Trial Sites
Electric Vehicles and Balancing the Grid
Virtual Power Plant and Smart Factory
Demand Side Management with Smart Consumers and Prosumers
12:00 pm - 99 Seconds (presentations of all participants) and Networking Matrix
13:00 pm - Lunch (Setting up Networking Tables)
14:00 pm - Networking Session
16:30 pm - Closure
For further questions and Information regarding the Innovation Events please don't hesitate to contact us!
Alexander von Jagwitz
B.A.U.M. Consult GmbH
Gotzinger Str. 48/50
81371 München
Germany
---
Organiser: ESB and B.A.U.M. Consult on behalf of the FINESCE consortium.